Energy Conference December 5-6, 2018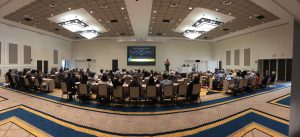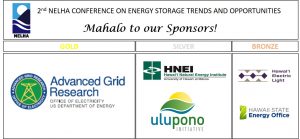 The State of Hawaii is striving to reach 100% clean energy by 2045. In doing so, it is securing a position of leadership in the clean energy economy, including the use of energy storage to address increasing amounts of variable resources brought into the grid. This conference brought together experts from US National Laboratories, academia, government and industry to present energy storage technologies and applications and consider opportunities and challenges.
In addition to examining world and national trends, this event focused on Hawaii issues and opportunities including resiliency in force majeure situations of geophysical and atmospheric nature. The meeting included presentations by leaders in the field as well as site visits to installations.
Conference Goals
1) Present the latest information on the state of energy storage, grid reliability and resiliency;
2) Assess and compare progress of energy storage demonstrations and implementations in Hawaii with those in other parts of the country;
3) Discuss resiliency in force majeure situations;
4) Examine the economics of energy storage;
5) Discuss opportunities for projects within the State of Hawaii, the Island of Hawaii; and
6) Discuss regulatory and policy issues affecting the implementation of energy storage in Hawaii.
The conference included one full day of presentations and panel discussions which considered existing case studies to examine issues of reliability, power quality, distribution, generating capacity and resiliency. The second day of the conference included visits to site demonstrations at NELHA, the inauguration of a grid scale battery, and a regulatory and policy workshop. The site visits included NELHA's energy storage test bed, its ocean thermal energy conversion (OTEC) facility, a CSP/desalination project and the H2 generation and distribution facility.
Final Program (includes agenda and speaker bios)
Presentations (in order of appearance at the meeting and in pdf format):
Special thanks to the Island of Hawaii Visitor's Bureau for donations of the pono pledge bags and goodies.
We would also like to acknowledge Creative Arts Hawaii for donating the conference banners.
Finally, mahalo to Friends of NELHA for helping to provide an outstanding venue that facilitated networking and the exploration of opportunities among the participants!