HOST Park Assets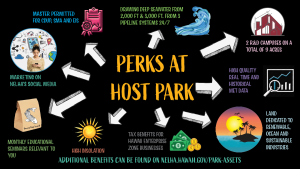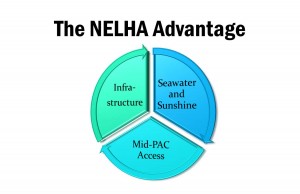 HOST Park's assets make it an ideal clean energy test bed for almost all renewable energy technologies including geothermal.
There's no other place in the world with a three-pipe seawater delivery system available on demand 24/7 pumping more than 20 million gallons a day.
Our other resources also provide an excellent base for pure and applied ocean-based projects.
RESOURCES
Master permitted – CDUP – SMA – EIS
Proximity to the Kona International Airport
Land – 870 acres
Ocean – 3290 acres research corridor
High insolation
<15″ of rainfall/year
Class AA ocean waters
2 R&D campuses on a total of 9 acres
15,000 square feet office, lab and conference rooms
Research Campus microgrid
SERVICES
Three pipeline systems operating 24/7 and 365 days/year
Deep Sea Water (DSW) from 2000ft and 3000 ft depth
10+ mile seawater distribution system
Max DSW pumping capacity 43,400 gpm
Surface Sea Water (SSW) from 80 ft depth
Max SSW pumping capacity 55,600 gpm
New meteorological station installed November 2012
High-quality real-time and historical met data
Co-location R&D and commercialization
EXPERTISE
Benchmark for ocean water quality analysis
Biosecurity Management Plan
2011 Updated Master Plan
Land dedicated to renewable, ocean and sustainable industries
Green Economic Development Agency
Hawaii Enterprise Zone – Tax benefits
Technical Support (lab, engineering, electrical, mechanical)