4th Annual Ocean Energy Workshop 9/13/13
Posted on Sep 23, 2013 in OTEC
The Hawai'i- Okinawa Clean Energy Cooperation 4th annual ocean energy workshop, organized and hosted by the Hawaii County, took place at the Hawaii County Kailua-Kona Civic Center on September 13, 2013.
John Delong, NELHA Chairman provides one of the welcome statements.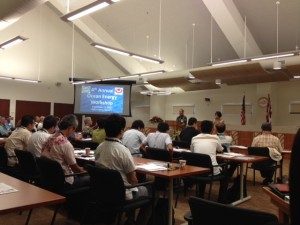 The workshop included progress reports on the recently inaugurated Kumejima test facility.