HATCH Announces 2021 Innovation Studio – Hawaii Edition
Posted on Apr 22, 2021 in Main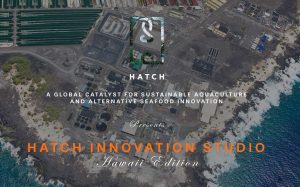 This year, HATCH will be offering a program that is focused on advancing home-grown Hawaii aquaculture projects. They are calling the program the Innovation Studio- Hawaii Edition. The aquaculture focus is surprisingly broad as it includes supply chain, alternative seafood, equipment, software, feed components and other related areas.
Through the Innovation Studio, HATCH plans to focus on earlier stage projects than they have the past two years with the aim of growing the aquaculture entrepreneurial ecosystem in Hawaii. For those that get selected, this is a great opportunity for free advice, mentoring and access to many of the regular accelerator cohort benefits. Unlike previous cohort programs, there is no cost to participate, nor is there any equity sharing. The program is designed so that participation is 2 days per week allowing folks to explore and develop projects while maintaining their other work obligations. Ideally, projects going through this program would then be well prepared to seek seed investment.
More information is available here.
We are particularly excited that the focus is on Hawaii researchers, inventors and entrepreneurs. Please spread the word about this free program to whomever you think might be interested.
Applying is simple, do it here before June 4, 2021. Program will start July 2021.