Learn About Good Jobs Hawai'i Program
May 3 @ 10:00 am

-

2:00 pm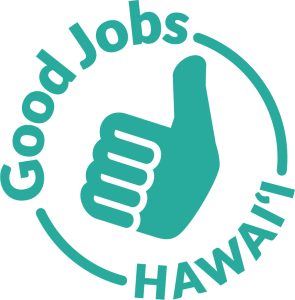 Please join us for one or both of two sessions regarding the Good Jobs Hawaii program which aims to assist in meeting workforce needs in Hawaii. These can be attended either in person or via Zoom on Wednesday, May 3, 2023. Good Jobs Hawaii flyer
You are invited to join industry, education, and community leaders to learn how Good Jobs Hawai'i – a $35 million workforce development initiative – accelerates Hawai'i's workforce for a better future. The program is aiming to fill education gaps and provide support for internships and other programs in select sectors including technology which applies to companies at HOST Park.
Good Jobs Hawaiʻi is a coalition of businesses, educators and community partners helping Hawaiʻi's citizens get high-quality jobs and careers while ensuring employers meet their needs for a skilled, local workforce. UHCC is leading the effort by offering no-cost skills training in high-demand industries including healthcare, technology, skilled trades, creative industries, and clean energy. Sector leads Chamber of Commerce Hawaii, Hawaii State Energy Office, DBEDT Creative Industries, and Healthcare Association of Hawaii are facilitating industry partner engagement.  
GOOD JOBS HAWAI'I OVERVIEW
Wed., May 3, 2023
10 a.m. – 11 a.m. at
Hale Iako Oceanview Conference Room or
Zoom: https://us06web.zoom.us/j/87634128817
_______________________________________________________________
ALGAE CULTIVATION WORKFORCE NEEDS
Hawaii Community College Good Jobs Hawaii program and representatives from Hawaii State Community Colleges are currently working to implement the algae cultivation curriculum and we want to hear from you!  Please join the discussion on what your company needs for workforce training.  What do your employees need as far as skills?  What would be skills and learning outcomes would be valuable to you as an employer in the algae and aquaculture fields?
We can strengthen our industry success with vital workforce development for our employees, both future and current employee pools.  These programs are here to support you.  Please come and share with those involved what matters and how they can best support you in their workforce development efforts.
WORKFORCE NEEDS
Wed., May 3, 2023
1 p.m. – 2 p.m.
Hale Iako Oceanview Conference Room or
Zoom: https://us06web.zoom.us/j/85700991689
SPECIFIC QUESTIONS REGARDING GOOD JOBS HAWAI'I:
Please contact Dan Doerger, Director of Workforce Innovation, University of Hawai'i Community Colleges at [email protected].
FOR SPECIFIC QUESTIONS REGARDING AGAE CULTIVATION CURRICULUM:  Please contact Valerie Harmon at [email protected]
Learn more about Good Jobs Hawai'i at goodjobshawaii.org.