Brown Bag Lunch: How Can Aquaculture Projects Get Funded?
January 18 @ 12:00 pm

-

1:00 pm
How can aquaculture projects get funded?
Via Zoom or in the NELHA Open Ocean Conference Room Join Zoom Meeting https://us02web.zoom.us/j/89904035882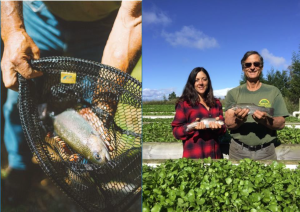 Kulahaven Farms is closing their operations after many challenges including a flood from a 2021 storm, loss of income and market during Covid, and most recently a power outage that caused thousands of trout to perish. The good news is that this was their R&D phase, and that work has been completed with the farm at or above breakeven in Q4 of 2022. John Dobovan is now pursuing Phase Two of his business plan that includes expansion to full scale, a commercial kitchen, farm-to-table tours, a trout fishing venue, and an educational center to coach up-and-coming farmers. What funding and resources are available to help farmers like John and the aquaculture industry flourish?
Presenter Info:
John Dobovan is the President and Founder of Kulahaven Farms, Hawaiʻi's first commercial rainbow trout aquaponics farm. John retired from a long career as an award-winning video producer in 2012 to realize a lifelong dream and passion as an organic farmer. Prior to Kulahaven, John was a partner in Nalolicious Farm, took classes at Windward Community College, and completed his AS degree in Sustainable Tropical Crop Management at UH Maui College, which gave him the background needed for commercial scale farming.
A Technology & Research Brown Bag presented by NELHA & the Hawaiʻi Aquaculture Collaborative. Have an aquaculture topic to discuss and a problem to solve? Contact Kai at [email protected]